G2A is an online marketplace that hosts gaming products, mainly through keys. G2A offers game keys for platforms like Steam, Uplay, PlayStation, Origin, and Xbox.
It is the most preferred site among avid gamers due to the low prices and a wide range of gaming products.
As of 2020, it has over 20 million users.
G2A does not sell or buy products directly but acts as a platform to both the parties. It also has a payment gateway, G2A Plus.
When I first came across G2A, I was quite skeptical. I wondered how G2A can provide original keys at such low prices.
Is G2A really legit? Or, is it just a scam; and if it is legit, then how can they provide keys so cheap.
Why is G2A So Cheap?
When I researched this matter, I found the following. G2A gets the gaming keys from 3 sources:
Publishers
Developers and
Wholesalers
Publishers and developers expand their business through G2A.com's partnership program – G2A Direct. They put the product for sale at a low price as G2A offers them commission and developer fees thereby giving them a good profit.
Wholesalers buy products in bulk from publishers. They put each of them on sale at cheap prices so that all the products are sold quickly. If the stock doesn't get finished, there is a high chance of loss.
Game developers often sell their products at different prices in different regions. In some regions, game keys can be bought at very low prices. Some non-commercial sellers buy keys in such regions or from bundle sites like Humble Bundle. A few lucky ones get them for free through promotional contests. They put them for sale at a low price so as to finish the sale quickly.
There are over 4,50,000 sellers on G2A.COM from nearly 200 countries. That means, the competition is pretty high and they have to attract more customers to keep themselves up in the market. This explains the super low prices on G2A.
What Do People Say About G2A?
Whenever I want to know more about a site, I prefer to check out its reviews on public review platforms.
I checked G2A.COM's reviews on TrustPilot.
I found a review where the user seemed to have had multiple good experiences with G2A.COM.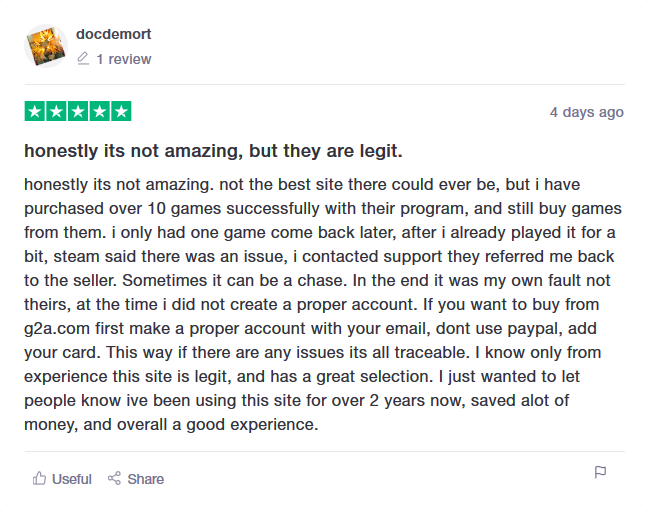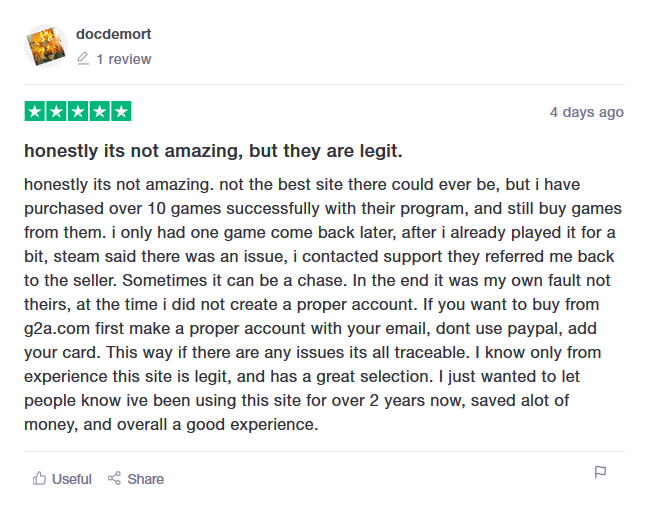 This one sounded true to me as the reviewer clearly mentioned it isn't amazing.
I checked G2A.COM's reviews on Reviews.io, a Google Licensed Review Partner.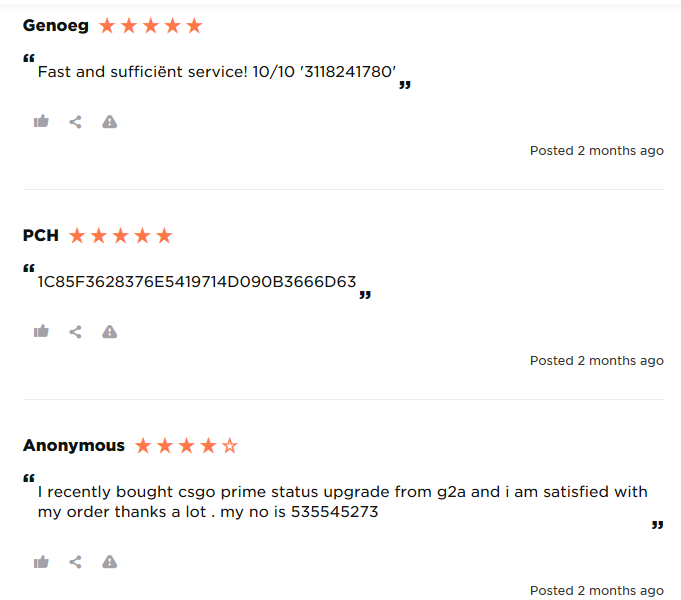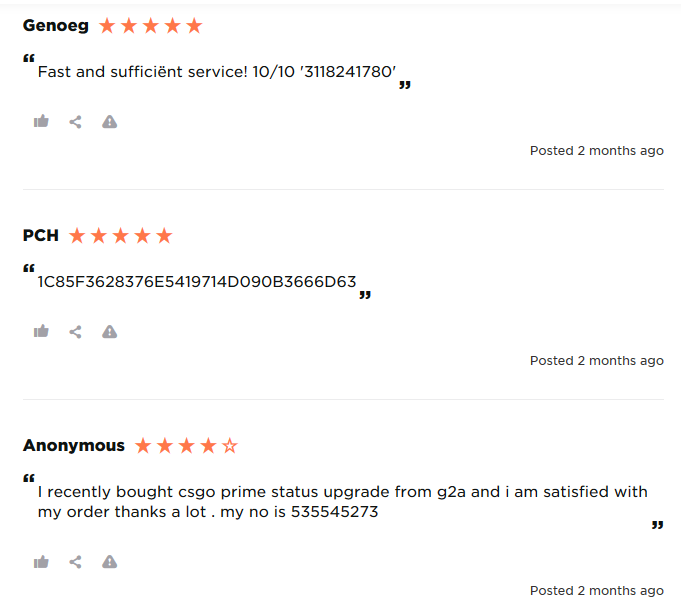 If I say all reviews are positive ones, it would be a lie. There are some critical reviews too. People do have bad experiences with genuine sites. That's a fact.
G2A has a 4+ rating in review sites; I believe it's a pretty good reputation to have.
My Experience With G2A
Despite the good reviews, I was still a little hesitant about trying G2A as I formerly came across fraud sites that sell non-working keys.
But the prices on G2A are super low and I felt there's no (huge) loss in giving it a try.
My first order took about 20 minutes to process. I was a little impatient, but I aimed to check if the key would work. So I hung around.
I used the key right away and it worked. The first one was a success!
But one order can't say it all.
I ordered a second key and this time, it took 10 minutes. The second key worked too.
Since then, I've been ordering keys regularly and never faced a problem with any of the purchases I've made except one. But the seller granted me a refund when I reached out to him.
As I had learned the sources (publishers, developers, and wholesalers) from which G2A gets keys, it made sense that the keys are working fine.
I found over 200 developers on the site and got some both steam and non-steam games directly from them at huge discounts. And they never missed a delivery.
In my personal experience, G2A has been an amazing website to get true gaming keys at ultra-cheap prices.
But keep these things in mind.
Check the seller's feedback before you buy anything from them. You can find this section when you click the seller's details under the product's title.
Choose to buy from well-known sellers.
If your desired product is available at a seller with low sales, read the reviews clearly before you go for the payment.
Is G2A a scam?
I don't like to call it a scam based on my personal experience.
I've purchased over 20 game keys and 7 gaming accessories from G2A.COM.
I don't say there are no fraud sellers. But, we buyers gotta be careful and check their stats before we proceed with the purchase.
I guess most of the critical reviews are from users who haven't run a proper background check about the seller.
G2A is just an intermediate marketplace that acts as a bridge between wholesalers (or any kind of sellers) and buyers. So, they do not hold total responsibility for any keys that don't work even after you pay.
However, you can reach out to their customer support or request for a refund in such situations.
Is G2A A Safe And Legal Place To Buy Game Keys?
Safety is undoubtedly the first thing you should consider before you try anything with your computer or mobile.
My computer had no virus threats when I used game keys from G2A. So, that way, I would say G2A is safe.
And for your personal safety, deal with sellers the way you do on any other e-commerce sites like Amazon or eBay.
Publishers and developers do not lay any rules about the price of any game key. So, there is nothing illegal in buying a game key at a lesser cost than the retail price.
In fact, G2A has launched a platform G2A Direct on which even publishers and developers put games for sale and earn commission on every purchase.
Remember that a game developer has the right to remove illegal keys published by anyone. This includes keys bought by stolen credit cards or from fraud dealers.
The deletion can happen even after you have bought them a long time back.
There is no assurance from G2A that all the keys on the site work forever. Though G2A offers resolution services including a money-back guarantee, you may face issues at times.
Note: I learned recently that developers cannot always trace the fraudulent keys to delete them. As the chances of deletion are less, people still continue to buy or sell illegal game keys.
Are There Any G2A Alternatives?
In my opinion, G2A is a great website to buy game keys and other accessories, but it is not the only one. There are several sites similar to G2A, each with exclusive features and benefits.
I prefer having a backup at hand as these sites are known to change their terms regularly.
Kinguin: Kinguin is often described as a site on par with G2A.COM. It has a smooth interface with penguins in adorable gaming costumes. Kinguin's vision is to give everyone access to great gaming experiences. They have over 10 million users who enjoyed savings of more than $200 million. They never ask for your credit card details to steal your money when you sign up. It is one of the legit sites to get gaming keys and products at a fair price. Every purchase and recommendation earns you an in-store reward. Kinguin is mostly loved for the instant delivery of game keys.
DLGamer: DLGamer is the ideal place to buy game codes for Steam, Origin, and Uplay at the cheapest price. The sign up is simple and free of charge. When you place an order, they will deliver it to you instantly in downloadable format after the payment. Sometimes, you will have to go to your Account section and find your game key in your products list after receiving the confirmation mail. Their payment gateway is 100% secure and you have many payment methods to choose from. DLGamer offers many types of games and every gamer will find at least one suitable product on the site.
CDKeys: With 4.5 stars on TrustPilot, CD Keys has been in the industry for over 20 years. It has also garnered popularity among Steam and Nintendo users for the hottest deals and games it offers. Steam users choose CDKeys over other sites when it comes to buying game keys. They also sell top-up cards to treat yourself on Steam, Google Play, iTunes, and Facebook. CDKeys offers you a wide range of payments including American Express and Mastercard. The delivery is done digitally in seconds after the payment. Also, console memberships have never been so cheap as they are on CDKeys.
SCDKey: Though SCDKey sounds close to CDKeys, they are not related. I feel SCDKey is an underrated game key seller that offers codes for Steam, Uplay, Origin, Playstation, and PC. It has a simple interface that anyone can navigate easily. On SCDKey, the payment gateway is secure and you can ask for a refund if you are not satisfied with their products or services. The delivery is sometimes delayed depending on the seller. If you face any issue, reach out to their customer support that is available 24X7. Opt for their newsletter if you want to keep track of the promos and deals offered every day.
Take a minute to look through all of them and decide which one can be a good enough (or better) alternative to meet your demands like platform compatibility, game type, and price range.
Is G2A really a trustworthy platform?
Like any other marketplace that relies on third parties, G2A has its own flaws. But, I never got scammed when purchasing any product. This is probably because I had always been vigilant about the seller's ratings and reviews before purchasing.
As long as you're careful in verifying the seller's background, G2A.COM is an amazing site for you to steal great deals in gaming products.
I hope this review answered all your questions about G2A. Let me know which online marketplace is your favorite destination for buying game codes.