G2A has become a favorite site whenever we need any gaming product. Kinguin, on the other hand, made a mark in Steam game codes.
Are G2A and Kinguin the only cool sites?
Nope!
There are alternative sites which you should not miss if you are regularly into gaming.
"Do they work great or dupe us in the end?", you may ask.
Well it takes a lot of research to answer your question and we have done that for you.
Here is a list of the top 10 sites that are as great as G2A and Kinguin. You won't get only cheap gaming keys but much more.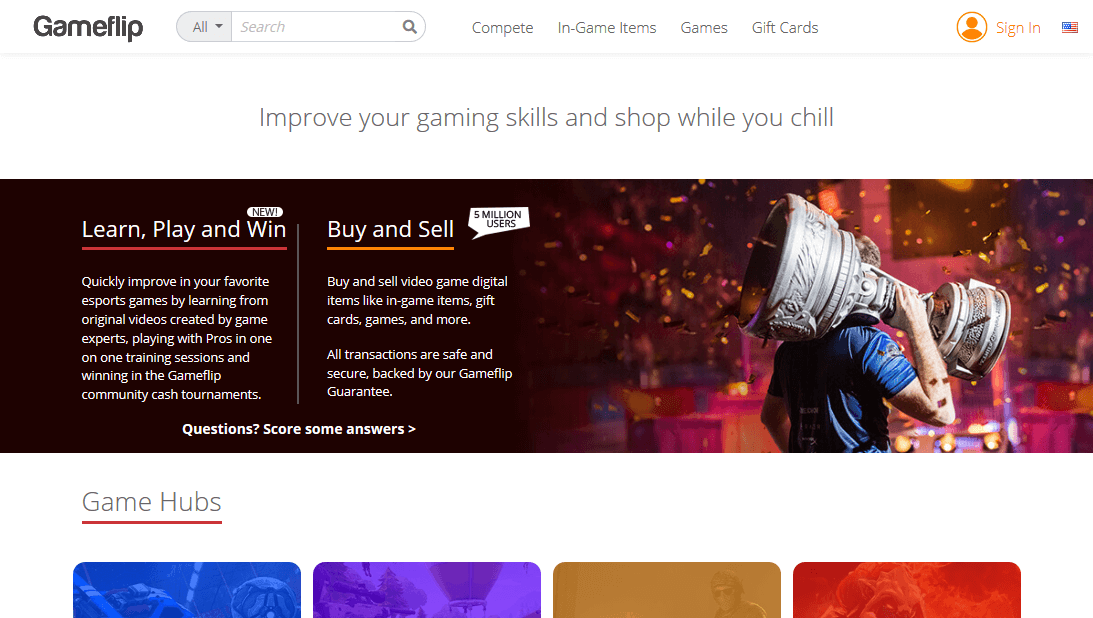 GameFlip is a space to connect, share, and exchange gaming products and it has over 5 million users. It was started by a bunch of passionate gamers who wanted to provide a safe marketplace to exchange gaming products.
On this site, you can buy or sell digital goods like game items, gift cards, and codes. All transactions on GameFlip are securely backed by GameFlip Guarantee.
Gaming software bought on GameFlip holds the reputation of never failing the buyers, unlike other e-commerce sites where software deals often turn out to be scams.
Gift cards are available for gaming platforms like PSN, Nintendo, Xbox, and Steam. Other gift cards include those of Amazon, Target, Starbucks, and others.
The offers on gaming products are attractive and the delivery is done in around 10 minutes. They hold your money until you acknowledge that your product has been delivered. Only after you confirm the delivery, they will transfer the money to the seller.
The Buyer and seller can exchange texts on the site so that there is no communication gap between them in case of failure of payment or delivery.
Along with sales, you also get to participate in training sessions of your favorite games created by Pro players. You can finish the training and compete with game experts to improve your gaming skills. This boosts your chances of winning in the GameFlip community cash tournaments.
GameFlip has also launched a mobile app, but for the best user experience, we would recommend the website. Take a peek into their long list of PC games and Console games.
Highlights:
Direct messaging between buyer and seller.
Training program to level up your gaming techniques.
Community cash tournaments to win real money.
100% secure payment backed by GameFlip Guarantee.
Quick delivery, usually within 10 minutes.
Immediate money refund in case of a failure in delivering the product.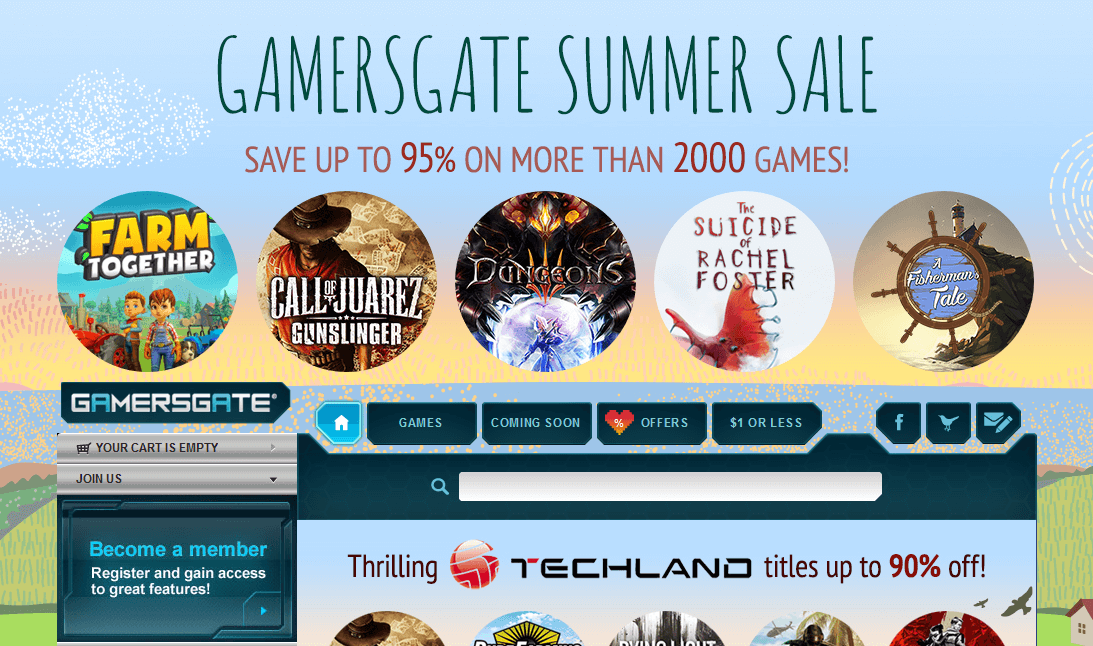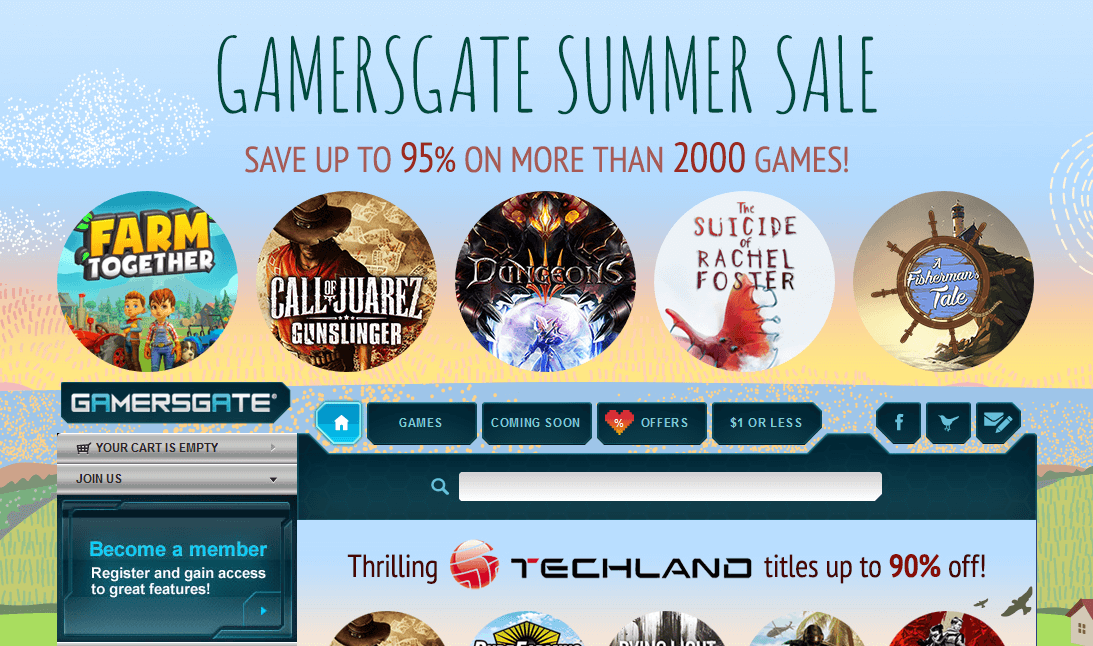 This Sweden-based online video game store is a leading digital platform primarily for PC games.
GamersGate offers strategy guides and games for Windows, Mac, and Linux through direct downloads along with conventional game keys.
While regular gaming marketplaces buy products from publishers and developers, GamersGate sells games for leading publishers and developers like SEGA and Epic Games.
GamersGate has always provided value for money and gained the trust of customers. Anyone who has purchased a game or guide from this site never wanted to cancel the subscription.
In the beginning, this site had issues with PayPal payment and they resolved it along with expanding their range of accepted payment methods.
That explains how GamersGate has been constantly upgrading to satisfy its clients giving them a happy experience with every purchase.
When you make a purchase, you will have to wait until they verify it is you who is actually paying and your card isn't stolen.
You can buy only 5 games at once. This is the only drawback if we might say.
If your friends don't believe in your choices, introduce them to GamersGate and watch them get seriously impressed.
Their refund policy works quickly and is 100% assured. Did we mention that customer support of GamersGate is another impressive feature often praised by its clients?
Highlights:
Huge collection of games for all operating systems.
Quick and complete refund.
Helpful customer support.
Verification after purchase to avoid theft.
Flexible payment methods.
Direct downloads.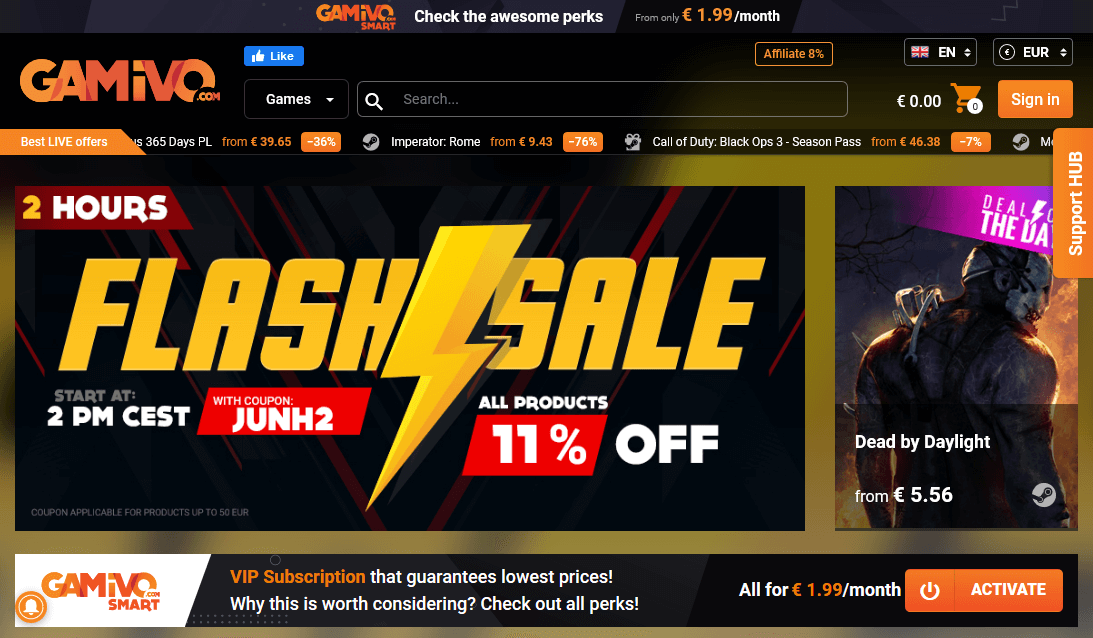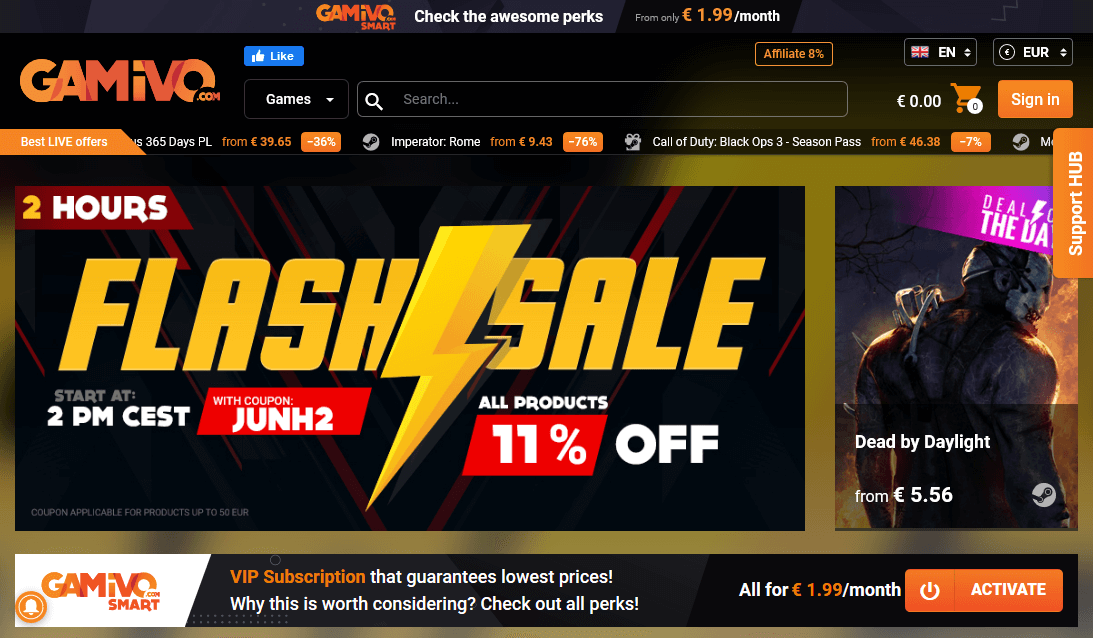 Gamivo is a revolutionary marketplace for gaming products like CD keys. This digital site is operated in line with the European Union and its laws.
Gamivo is run by gamers for gamers who are looking for gaming goods at a reasonable price. The website doesn't leave a good impression at first sight which we hope will improve soon. There are no clumsy tabs though.
All transactions on Gamivo are monitored, verified, and thoroughly analyzed to ensure the safety of the users. Every purchase on Gamivo is protected by its Customer Protection Program, CPP. This assures an additional layer of safety.
You get to choose a variety of games for PC, Mac, and console.
On SiteJabber, Gamivo holds a rating of 4.43 stars, implying the offers are not just good but excellent. Reviews on TrustPilot are positive too.
If you're going to pay via PayPal, use the same email address to sign up for Gamivo. If a credit card is your way to pay, use the same first and last name while placing an order.
Usually, discounts on Gamivo are always above 50% which can be availed by redemption codes. Gamivo prices are known to be the lowest in the market.
Delivery is quick (5 to 10 minutes) and downloading the game can take a few minutes.
Gamivo is a mediating marketplace like G2A. So, it holds no responsibility in case of stolen keys.
However, you can request their customer support team for a refund. Refunds are pretty quick compared to other e-commerce websites.
Although Gamivo offers keys from all popular gaming platforms, Steam and PSN are recommended favorites.
Highlights:
Wide range of gaming products of all genres.
Discounts by redemption codes.
Delivery in a couple of minutes.
Clean interface that is easy to use.
Cheapest rates in the market.
Fast responding customer support team.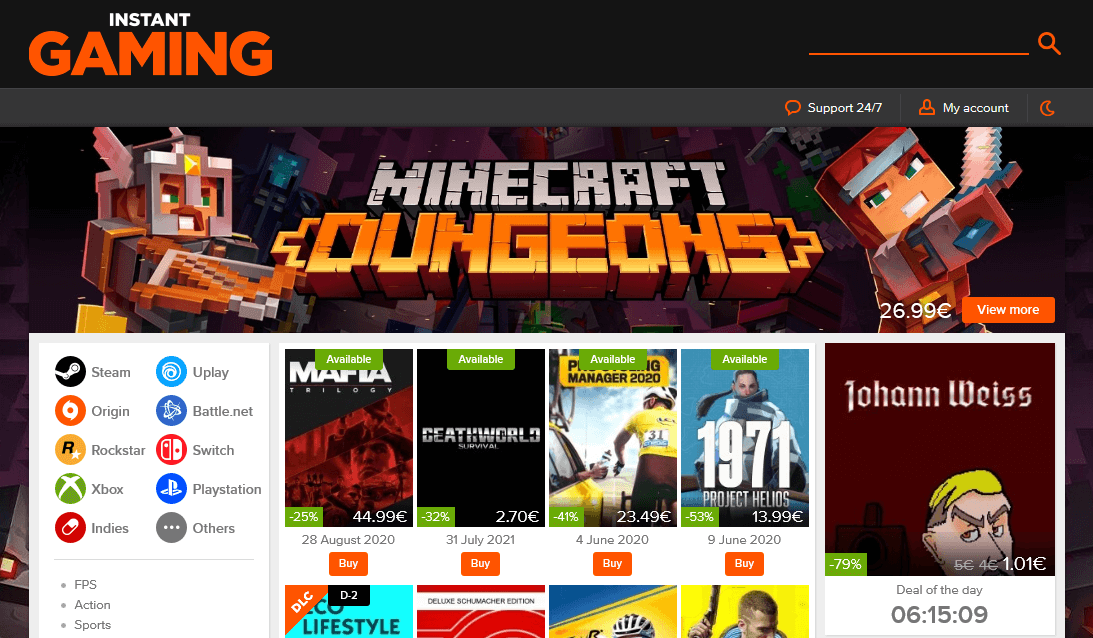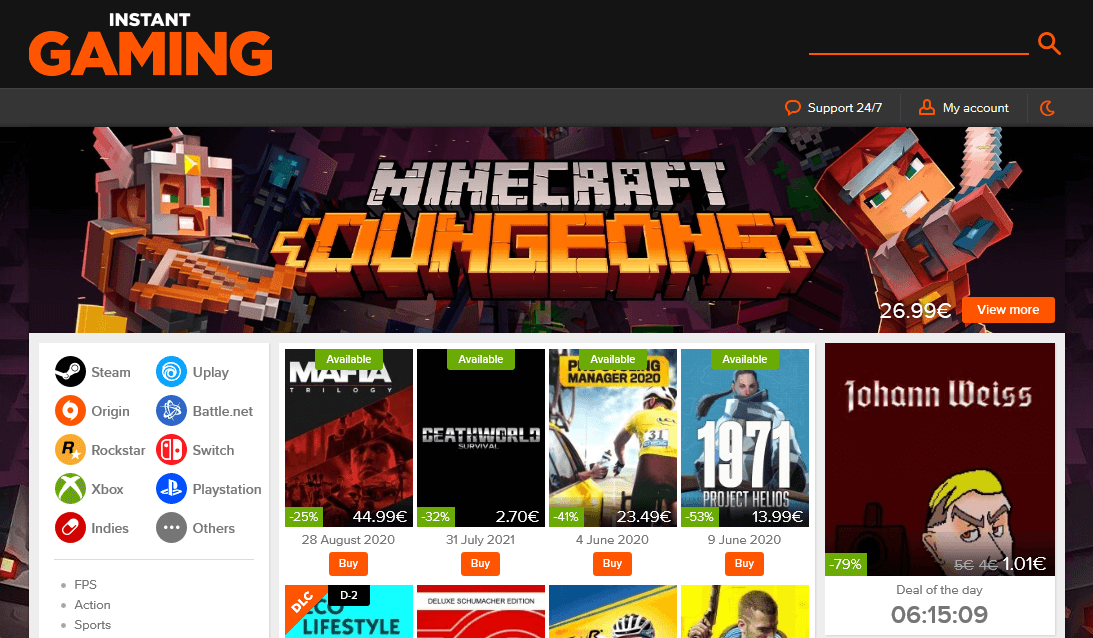 With 4.8 stars on TrustPilot, Instant Gaming is one of the best sites to get game keys at low prices.
You can find games for platforms like Steam, Origin, Uplay, Battle.net, Switch, and even games of the indie genre.
Instant Gaming is operated by a team of enthusiastic gamers who got fed up with standing in an endless queue and spend a fortune on the latest games, as they stated on their website.
They buy game keys in bulk from authorized resellers and lower the price of each CD key to bring the best deals for you. All the keys and cards are scanned by them officially.
With Instant Gaming, you can save up to 80% on selected games.
On some dry days, the prices may not be very cheap like other similar sites, but the wide range of games on this site attracts gamers of all levels. In such instances, wait for a few more days for the prices to fall down.
It takes a few minutes to receive the game key. Then, go ahead and download the game from legal platforms to play right away.
After the payment, go to the product page and click "Activate this game". You will be redirected to the guidelines according to your platform.
You can find purchased game keys or software in your account's history and "My Account" section. In case any key fails to work (which is rare to happen), get it cleared in the "Support" section.
You can download a key as many times as you wish, but transferring it is not possible.
Highlights:
Up to 80% discount on selected games.
Game keys are purchased from authorized key resellers and not from gray markets.
Fast delivery.
Downloadable software from legal platforms.
Great support team to guide you if any failure occurs.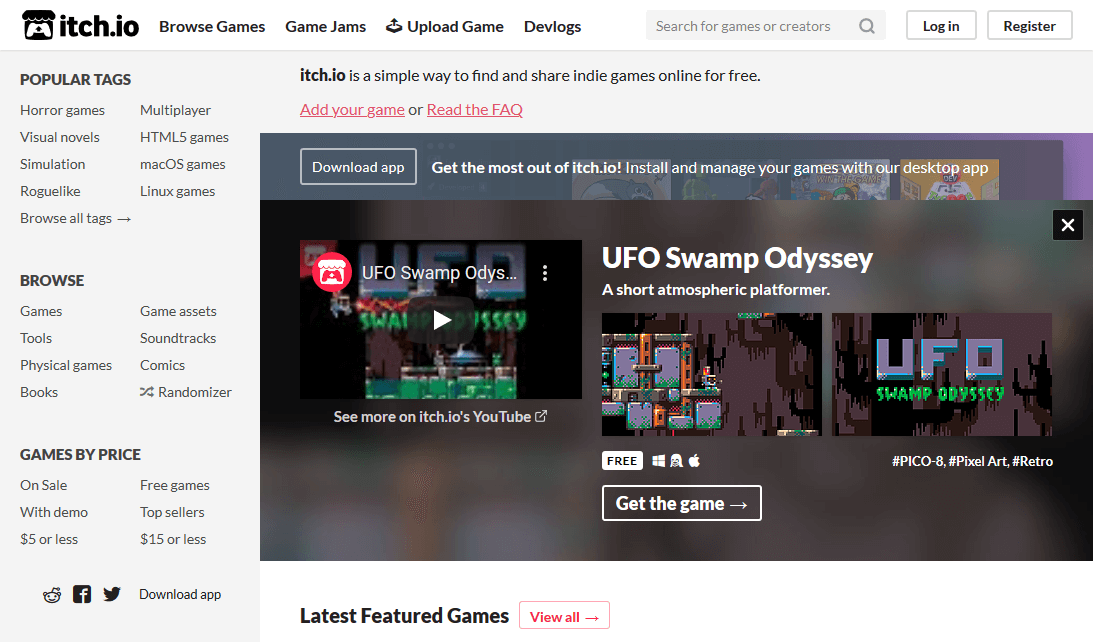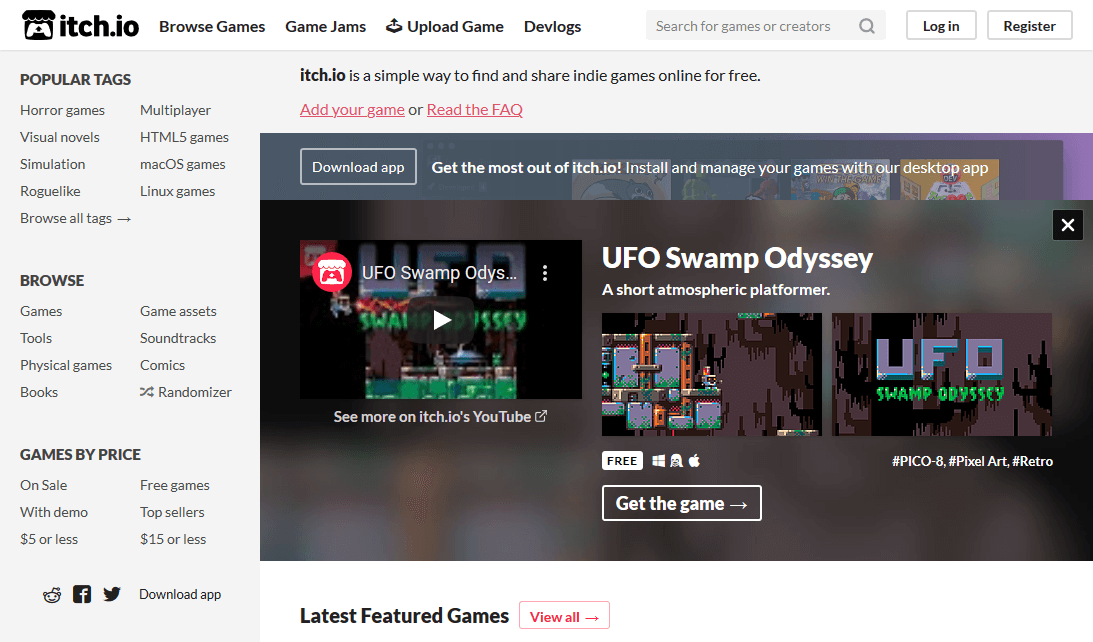 itch.io is a website for users to host, sell, and buy indie video games. Launched in 2013, itch.io now hosts over 100k products.
Indie games are known for artistic graphics and some of them have tasted success moving to larger platforms. itch.io makes sure the other games by beginner developers are not left out too.
Many indie games on this site are exclusive only to it and not found anywhere else. So, itch.io is not just another site, but an artistic indie game site on its own. Some features on this site are in fact better than other indie game sites.
The interface is appealing and on signing up, you get a subdomain that enables you to sell games. Even though you don't want to be a seller now, that may come handy in the future.
You can filter the games by platform and price. It also offers colorblind-friendly Windows games along with Oculus Rift support.
Users can interact with each other in the forums. If you are a game creator, you may find collaborators for your next project in itch.io's forums.
Tools like sound effects, character models, and textures on the website help creators in designing a game too.
If you like a game on itch.io and want to admire its developers or send some love, you can leave a message to them and they'll get in touch with you soon.
In our verdict, itch.io is the best platform to find alternative games different from mainstream stuff. This website is not for you if you're looking for games like Assassin's Creed.
Highlights:
Many exclusive indie games with attractive graphics.
Colorblind friendly Windows games.
Bonus tools for game creators.
Developers get in touch with users regularly.
Some games are free to download.
Free subdomain to sell games.
Community to share your ideas and make new friends.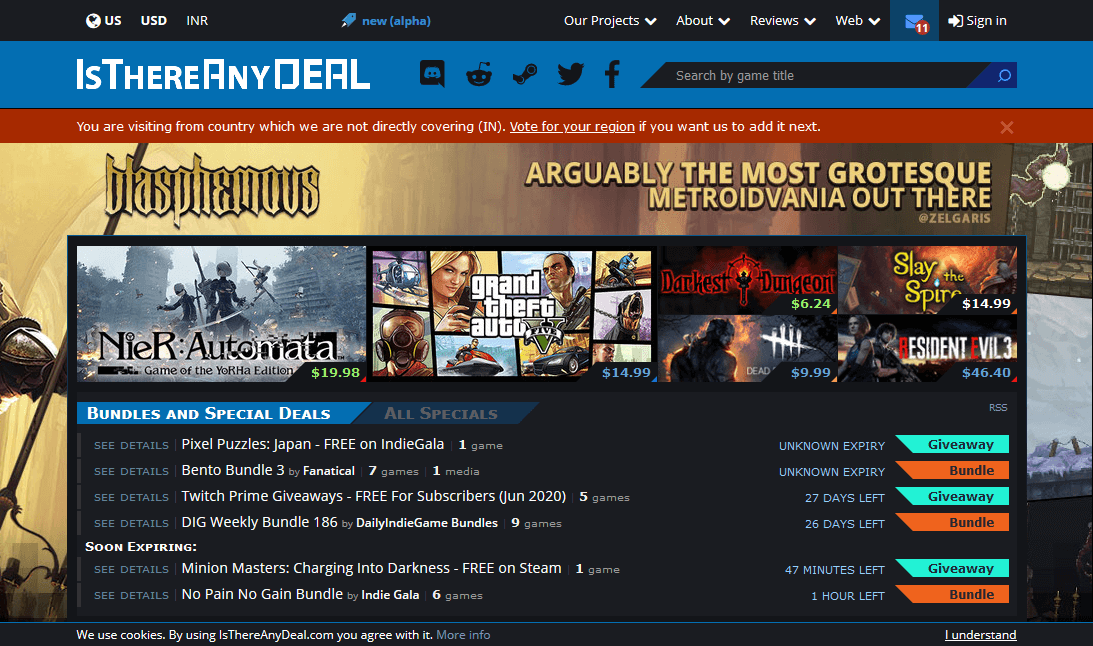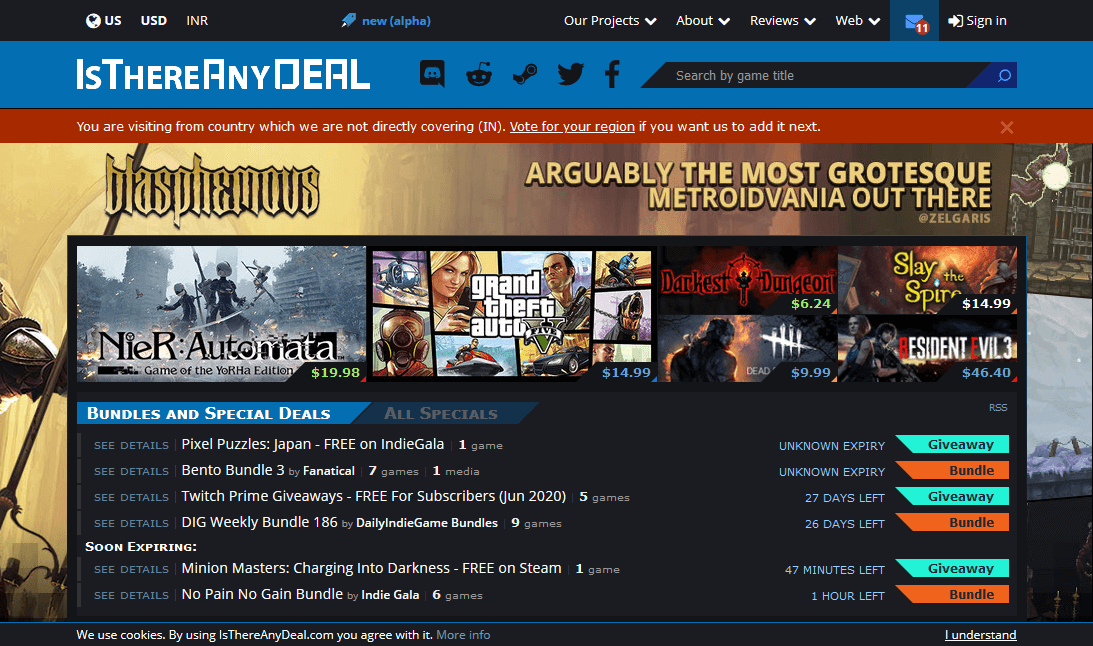 IsThereAnyDeal has the tagline, "when the price is right, you will play all night".
Not sure about others, but gaming fanatics can relate to it completely. One of the great problems in buying games is finding which site has the best deals among all.
IsThereAnyDeal compares deals from different sites and compiles a list for you to choose from.
They track new bundles, vouchers, and also your games if you're interested. They notify their clients about the changes in prices and suggest games that may work for them.
As an IsThereAnyDeal user, you get to see the price history of any product and also the right time to buy it.
In simple words, they do all the math and brain work for you.
Whenever there's a deal that suits you, IsThereAnyDeal notifies via mail.
The site is simple without any cumbersome options and is easy to navigate through.
They display all the third party resources they use to process data on their website, making it transparent to their clients.
Coming to your privacy, they collect necessary personally identifiable information shortly called PII. But they do not share it with anyone and do not forward your emails to third parties.
Data collected includes email or Steam ID, the country you access the website from, IP details, and your third party profile details.
A third-party account means the account you create on IsThereAnyDeal. IsThereAnyDeal stores your account type, ID, and username when you want to import games into your Collection.
All the deals listed by IsThereAnyDeal are from legal stores. So, there's no fear of fraudsters.
Highlights:
Comparison of all the deals of the day.
Personal notification to your inbox whenever there's a hot deal.
History of all fluctuations in the price of a product.
All deals are from 100% trustworthy sources.
Transparent list of third parties.
Waitlist to import games.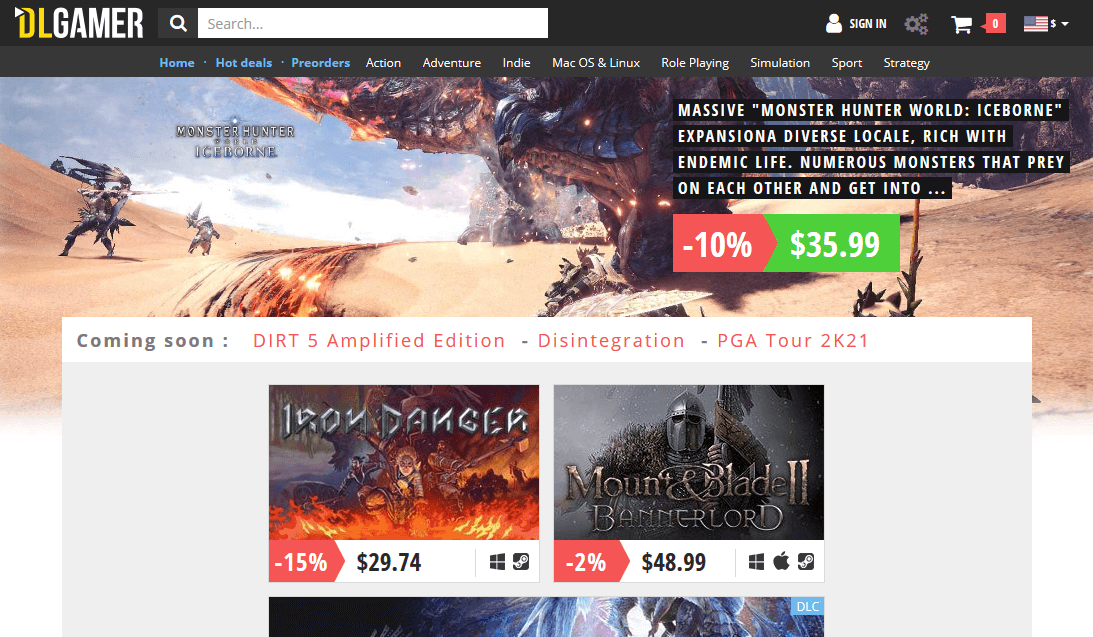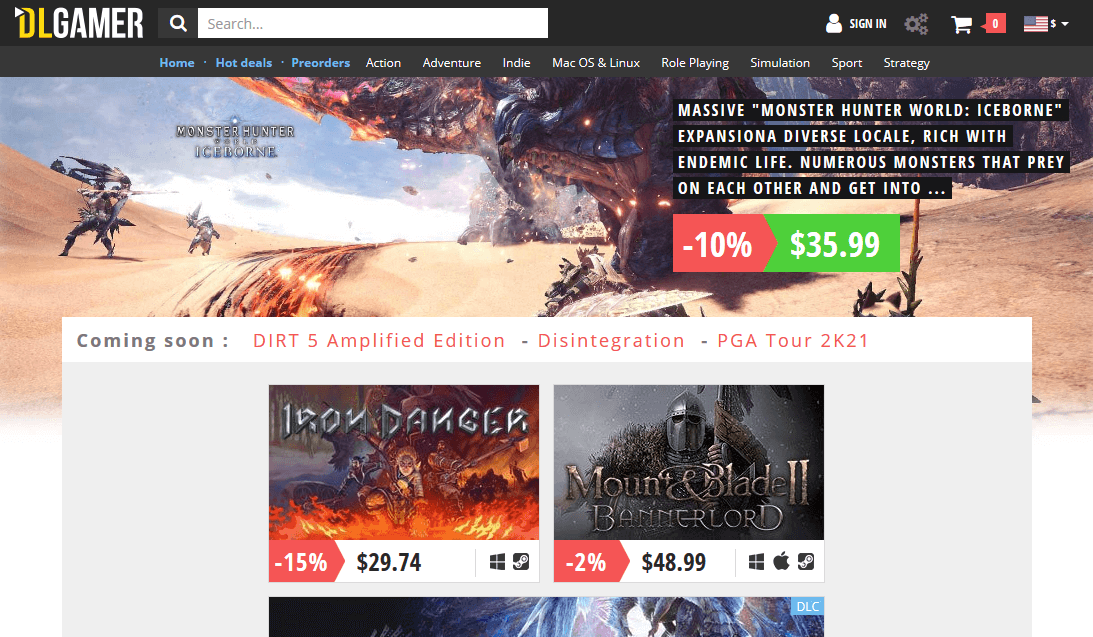 DLGamer holds many 5-star ratings on TrustPilot with an overall rating of 4.5. This is a digital retailer specialized in PC gaming and has been active for over 13 years.
All the games on the website are validated and sold with the authorization of the publishers themselves. A part of the payment you make is sent to the publishers as commission.
There is a dedicated page for pre-orders and also an affiliate program that offers 10% advertising fees.
This means you don't have to worry about the keys you've purchased being deleted later by the publishers. Keys you've bought once never stop functioning.
After your order is processed, you will receive a confirmation email. Go to your account page and open My Products tab to use the purchased game key.
Most of the orders take 5 minutes to be delivered. But your first order on DLGamer may take as long as 30 minutes.
Loyal customers who have spent more than $20 are automatically granted access to VIP services. With the VIP status, you get an additional 2 to 5 percent discounts on all their products. Pre-orders will come with additional bonuses. When you get VIP status, you can give cool deals as gifts to your friends too.
At present, DLGamer has only PC and Mac games. But they may expand their product range to console games soon.
As they are an officially certified digit distribution platform, you will not come across any fraud keys from shady sellers.
The customer support is available round the clock and you can reach out to them in case of any mishap.
Highlights:
Not merely a key reseller, but a certified digital platform.
Keys validated by publishers.
Extra bonuses with VIP status after your total expenditure on the site crosses $20.
Affiliate program.
Fast delivery in 5 minutes.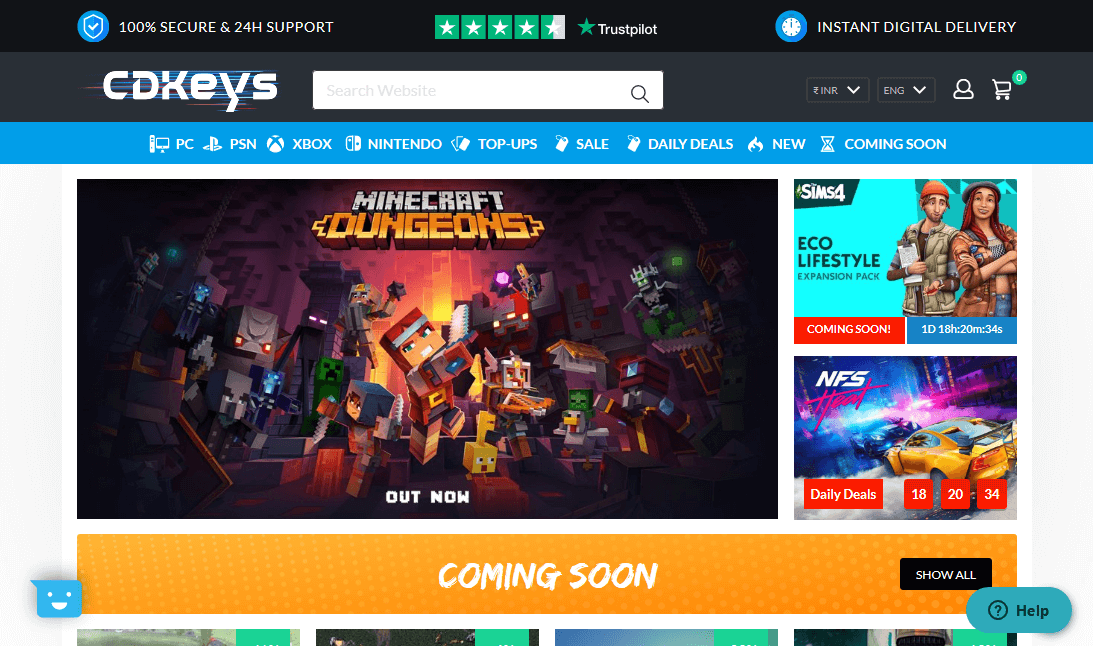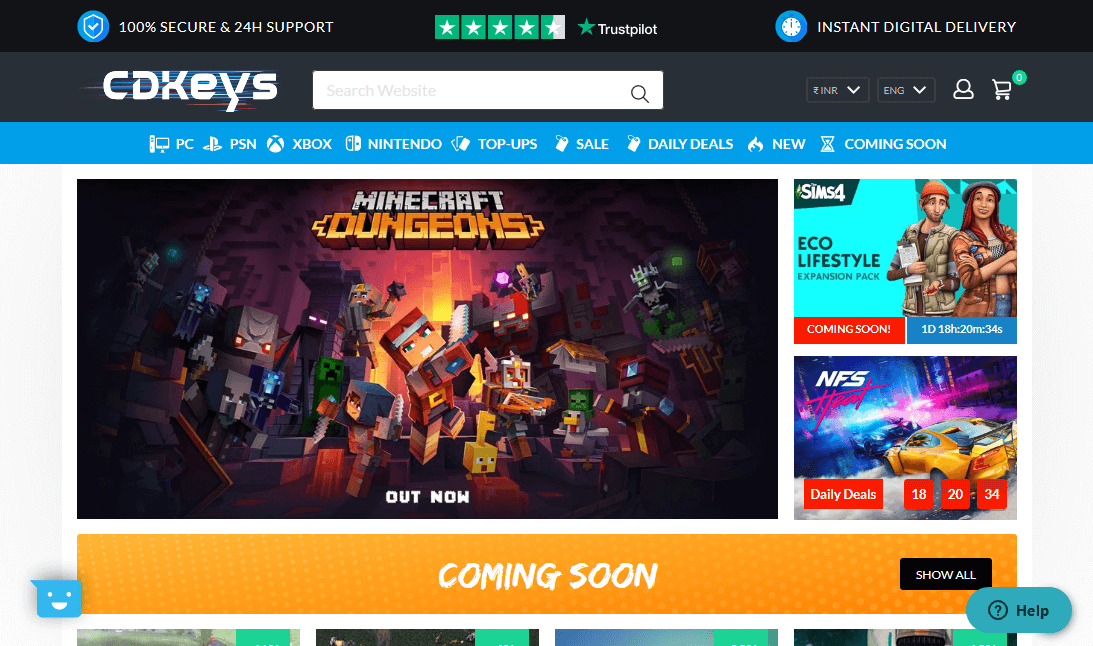 This platform is owned by Omynex E-commerce, headquartered in Dubai.
CDKeys team specializes in providing you with the best digital codes for the latest games. Rapid digital delivery adds up to its best features.
They're rated 4.5 out of 5 on TrustPilot and enjoy a loyal customer base that looks up to them whenever a new game is released.
If you haven't heard of CDKeys before, it is probably because they don't invest time and money in finding influencers to advertise their platform, but work on improving their services to meet customer demands. They let their work speak for themselves.
Though the name suggests only the sale of CD keys, they also offer gift cards and top-ups. There is no mention of software keys on their website and looks like they're not planning to launch them anytime soon.
CDKeys supports all popular payment methods including American Express and MasterCard.
After paying for a product, you will have to get verified using your phone number to receive your order via mail. You will not have to contact the customer support as the page states the directions clear enough. The entire process takes less than 10 minutes.
The site claims that the lowest prices of keys are possible due to their experience in the industry that introduced them to many suppliers from regions where game keys are available at dirt-cheap prices.
The only drawback of this site is the absence of a refund or exchange policy. The terms and conditions state that CDKeys is not responsible for any loss or damage resulting from lost or stolen programs or use without permission. So, users have to be extra careful while buying anything on this site.
The risk is worth it, considering the quality of the service provided.
Highlights:
The niche includes game keys, cards, and top-ups.
100% secure payment gateway.
Wide range of payment methods.
Quick digital delivery.
Cheapest prices even on the hottest releases.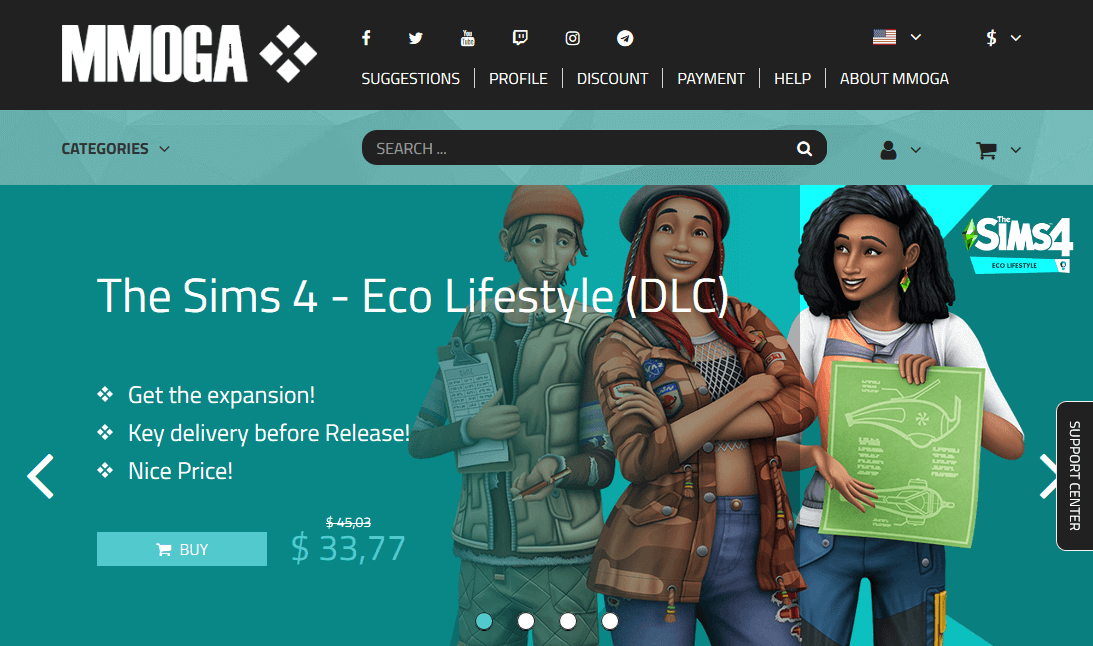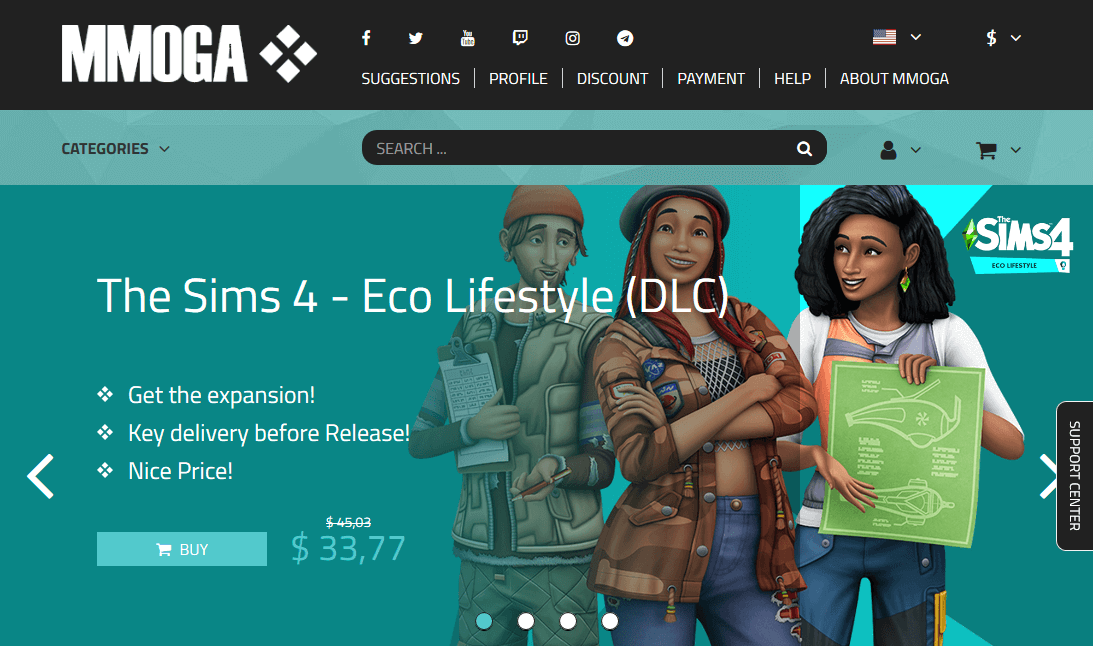 Mmoga has been a leading gaming marketplace for over 12 years. It was one of the first professional game services mediators. It holds a rating of 4.3 stars on TrustPilot with a remark of excellence for its services.
On Mmoga, you can find games, virtual currencies, and game cards at reasonable prices. Despite having game codes, you will have to go around searching for virtual currencies. That's tiresome but with Mmoga you can also find virtual currencies on your table.
They have more than 7,000,000 customers from around the globe.
Quick delivery and friendly customer support make the backbone of Mmoga's reputation in the market. You can contact the customer support team for any details you need to know before placing an order or even after completing the purchase.
Major payment methods are PayPal, Skrill, Paysafe, Maestro, Visa, and Sofort.
Each product on the site states not only the original and reduced prices but also the delivery time.
Game keys and game cards are delivered through email in 5 to 15 minutes and virtual currencies and FIFA coins can take up to a day to be delivered. Mmoga is constantly increasing its range of products.
You can also pre-order upcoming games and receive them in your inbox on the release date.
Their affiliate partnership program has more than 10k publishers who earn handsome revenue. If you're a seller, join their affiliate section.
Check out the official Mmoga app on the Play Store, if you're interested.
Highlights:
FIFA coins at a fair price.
A large variety of game cards for all sorts of online games.
Supports all major payment methods.
Affiliate partnership program for sellers to earn good revenue.
Instant delivery within a few minutes.
The delivery time is stated in the product's preview and description.
Friendly customer support for any kind of queries.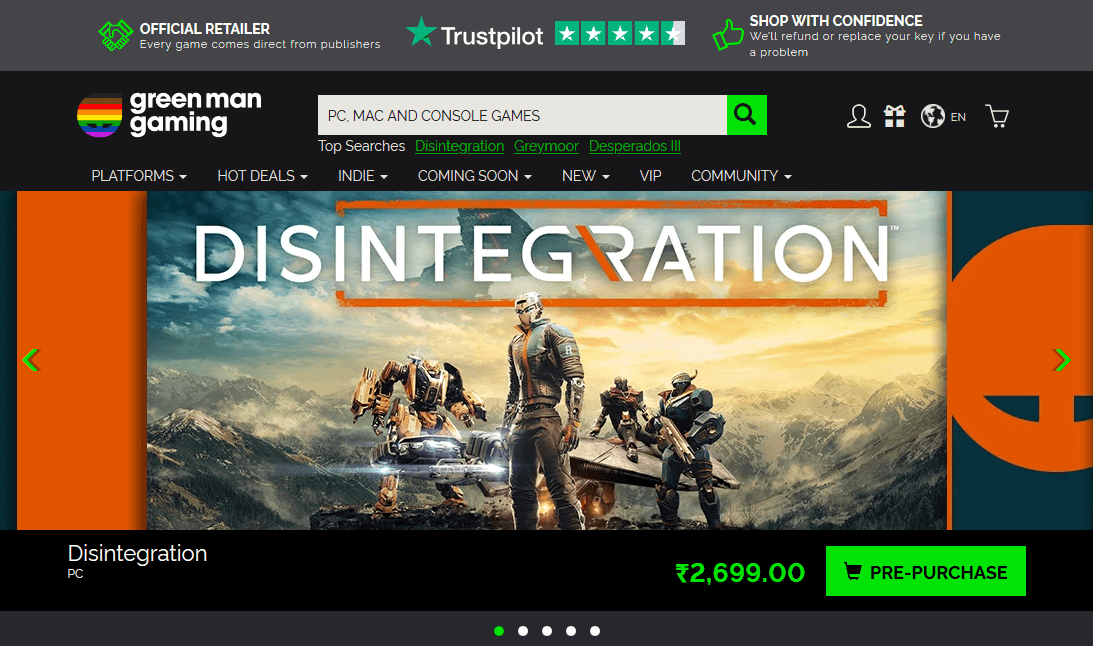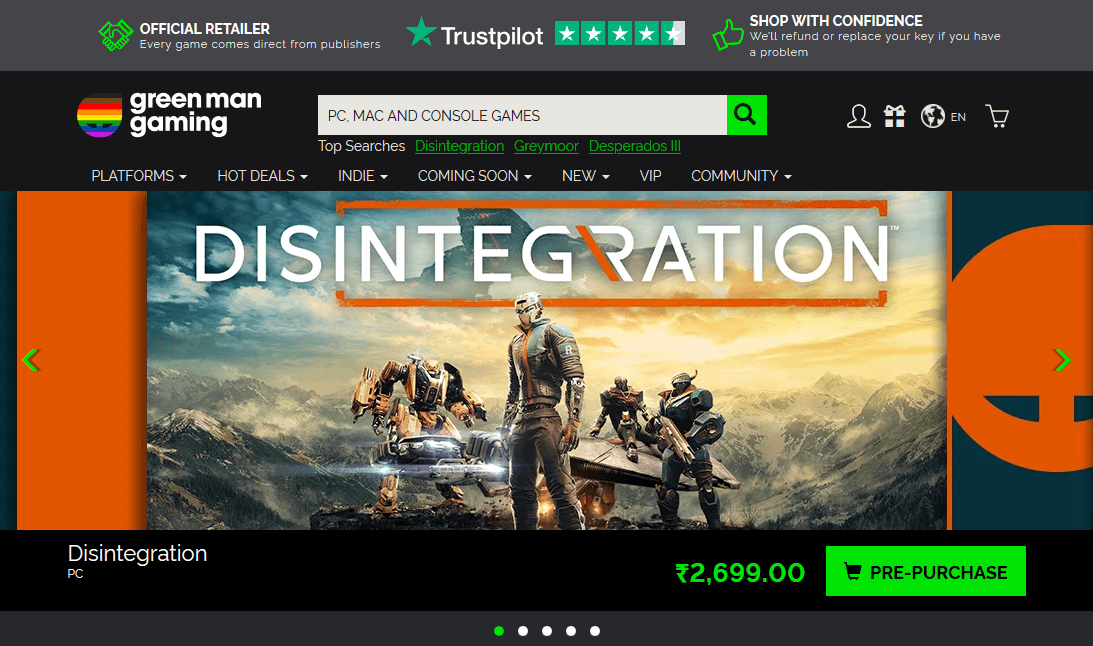 The experience on Green Man Gaming is similar to popular platforms like Steam and Origin. But, we think it is more relatable to Steam due to assured safety and occasional huge offers.
Green Man Gaming is a British-based online video game retailing platform launched in 2010 by Paul Sulyok, who had been the former CEO of Prize Fight, a platform devoted to online gaming. It currently has over 9000 games selling in 195 countries.
If you're a PC gamer, Green Man Gaming is the place you should visit to grab a nice deal. This site doesn't have any niche games but is a collection of various types of games so that every gamer can find something they love. They have a section for only indie games, though.
The Hot Deals tab is our favorite place to visit on Green Man Gaming as it offers huge discounts on the latest games. You will also be given a code by them using which you can strike off an extra 10 or 20 percent on the products in your shopping cart.
Additional features include Playfire that helps you connect with friends (even from Facebook if you wish to). Add games to your connection on Playfire and list your achievements.
The library does not have a wide range of products, but the discounts are impressive. Green Man Gaming may not work as a primary stop to buy online game codes, but it is perfect if you want flexible discounts on the recent releases.
If you're dissatisfied with any product, you can request a refund within 7 days.
Highlights:
Find the latest releases.
Join the Playfire community to know about trending games and share your achievements on your profile.
Hot deals with discounts and coupon codes for extra discounts.
Compact library but with diverse genres of games.
No matter which site you choose, you should not overlook some basic precautions such as checking about the dealer and verifying if the price range is lower than that in other sites. Beware of fraudsters who pose as celebrities or famous personalities and sell illegal products.
These things happen on any e-commerce site. So, the site isn't to be blamed.
Let me know which of these gaming sites worked the best for you as G2A alternatives.